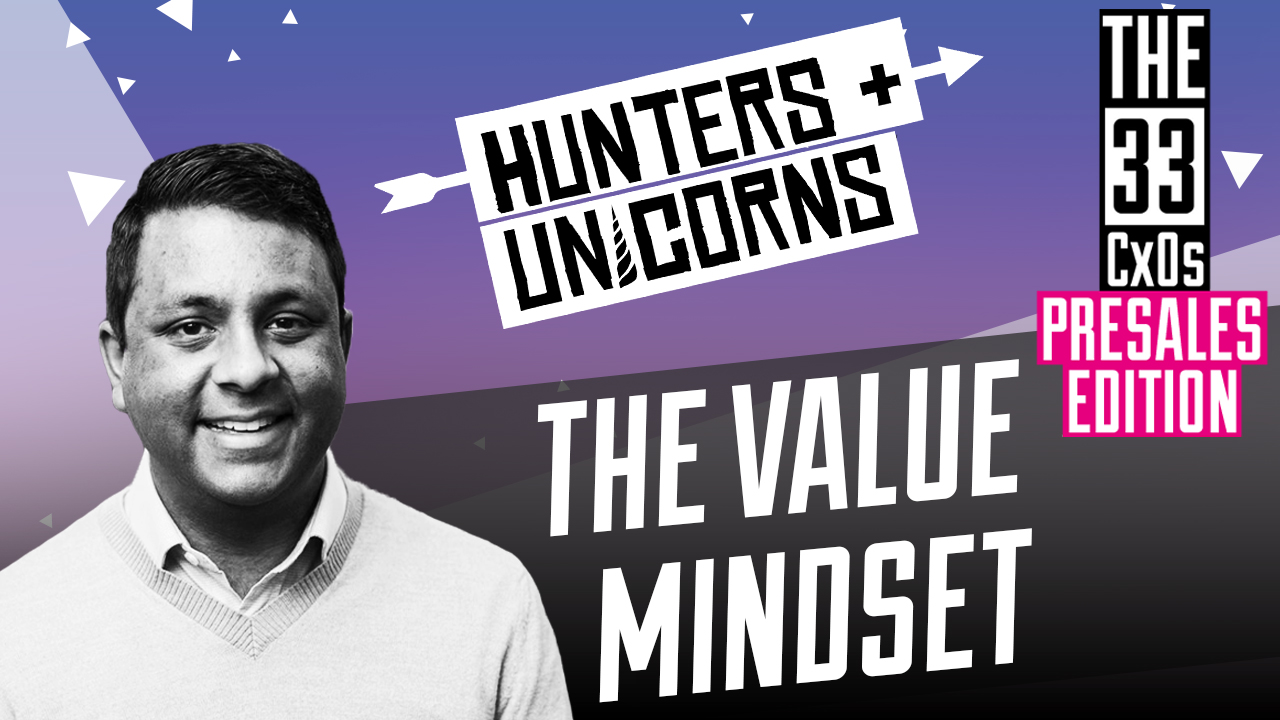 "There's an actual skill in being able to translate technology in business, fluidly back and forth. The top presales engineers are ones that understand business and sales. They know where we are in the sales process, they know the way deals work and how they flow, and they also know exactly where the technology fits into that process and how to be deeply technical to make sure we get that win. That's a unique skillset."  – Sahir Azam
In the Presales Edition of The 33 CXOs we explore the crucial role of the presales organisation in what is regarded as the greatest success story in software sales.

When John McMahon took over as the Head of Sales within BladeLogic, he had a clear vision to create a sales and presales organisation that was in complete unison. What transpired became a sales rhythm which remains the golden standard for best practice within the most successful technology companies in the world.

The effects of a value-driven, technical sales function transcended the boundaries of presales. The playbook has helped trailblaze best practice within Customer Success, Value Engineering, Professional Services and even Product Management.

We uncover the stories and playbooks of the most talented technical sales leaders in the industry who are driving the technology companies of the future.
Episode 1 features Sahir Azam, Chief Product Officer at MongoDB. Sahir has extensive experience in product management, marketing, sales, presales engineering, and corporate strategy. This has culminated in a remarkable track record of success at both start-ups and PLCs within the enterprise software space.
Sahir had no experience in presales prior to embarking on a career at BladeLogic in 2006, but his character, coachability and passion for sales methodologies equipped him with the essential skills needed to win. His mindset enabled him to smoothly integrate with a high energy start-up team, that only accepted the highest standards. Taking on one of the most versatile roles in the business, Sahir mastered the presales skillset early, and since then his career trajectory has been truly remarkable. Sahir is now responsible for product management, product marketing, design, across the MongoDB portfolio and has led MongoDB's transformation into to a cloud-first company.
"I was lucky, because of mentors, I was able to realize what my strength was relatively early in my career and put emphasis and energy into making that stronger. In my case, it's the combination of business and technical."
Sahir thrived in an environment that enabled him to have a strategic impact and leverage his rare blend of technical and business skills. Historically, the presales function had been primarily technical, but BladeLogic's integrated approach brought teams together through culture, methodology, accountability and most importantly, a united competitiveness and determination to be incredibly successful. A new era was born; one that would set global standards and impact the future landscape of SaaS sales forever.
"Presales was a partner as opposed to just a resource you use for technical help, and that culture was foundational because of how complicated the product was. There was a mutual respect going on there, and you needed both sides of the coin, the technical sellers and the business sellers together to make a really amazing deal happen."
In this vodcast you will discover:

The essential skills required for a career in presales
The importance of MEDDIC and the role of presales in the sales process
The vital link between technology and business fluidity
How to scale your career in presales
Sahir is now as much a business leader as a technical leader. His ambition and ability to combine these two skillsets have propelled his career forward and reflect his innate ability to stay focussed, impact business value and constantly evaluate how to elevate to the next level. We discuss Sahir's experiences in this constantly evolving industry, his playbook, and the core ingredients needed to succeed in SaaS presales. This thought-provoking discussion is essential listening for those with an interest in sales strategy, as well as anyone with a passion for the technology space.