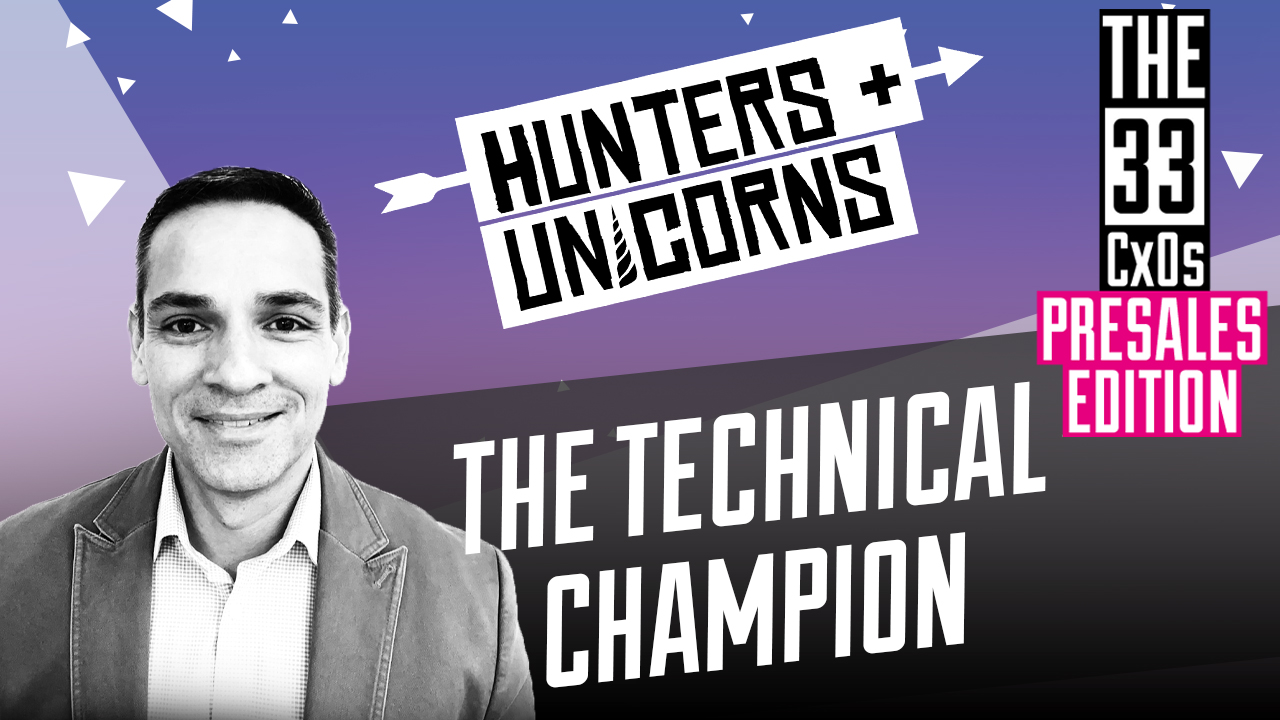 "If you're going to remain successful you need to constantly be thinking about adapting and changing. Even if you're winning all the time, you should expect that to stop eventually and you need to be thinking about what's happening next. Change is not a bad thing – you should be more worried if change isn't happening because that means you're not getting ready for the challenges that are coming."  – Frank Lamprea
In the Presales Edition of The 33 CXOs we explore the crucial role of the presales organisation in what is regarded as the greatest success story in software sales.

When John McMahon took over as the Head of Sales within BladeLogic, he had a clear vision to create a sales and presales organisation that was in complete unison. What transpired became a sales rhythm which remains the golden standard for best practice within the most successful technology companies in the world.

The effects of a value-driven, technical sales function transcended the boundaries of presales. The playbook has helped trailblaze best practice within Customer Success, Value Engineering, Professional Services and even Product Management.

We uncover the stories and playbooks of the most talented technical sales leaders in the industry who are driving the technology companies of the future.
Episode 2 features Frank Lamprea, Sales Engineering Leader at ThoughtSpot. Frank started his journey into presales at BladeLogic in 2006, having originally built his career in the end-user space. His adaptability, deep-rooted passion for technology and profound insight into the customer experience gave him the raw materials he needed to enter and evolve in a pioneering, high-growth, aggressive software space, and subsequently launch an incredible career trajectory. With a consistent focus on progression and "sharpening the sword", Frank has continued to excel in this field, climbing the ranks as part of world class sales teams. He has played key roles in the growth of market leaders including BMC, AppDynamics and most recently, ThoughtSpot.
"Most successful presales people have an interesting mix of skills that makes them who they are. You need that mix of technical expertise and a good set of soft skills, communication skills, savviness with the business and an ability to build champions and connect with people."
In a powerful sales organization built on rigor and methodology, and surrounded by like-minded individuals, Frank wanted to win. He recognised that the only marker for success in this industry is performance. His technical expertise already equipped him with the skills required to make it as an engineer, but the training and ground-breaking approach to presales enablement at BladeLogic added new dimensions to the role. This enabled him to optimise and expand his skills, establishing foundations to support his development into the multifaceted leader he is today.
"There are two ways that sales engineers are categorized – you're either a tool or you're a partner. Unfortunately, a lot of companies treat sales engineers as a tool. I've always strived to have it be a partnership of equals and I think big part of why we would win at BladeLogic is that we maximized the value of the resources that we had by developing relationships like that and by not letting somebody be idle when they could be contributing."
In this vodcast you will discover:

Which aspects of MEDDIC are most beneficial in presales
The mindset and methodology required to build and scale high-performance pre-sales teams
Hiring right – the importance of recruitment and how to find the right people for your company
How to prepare for a change of rank or position
Frank Lamprea believes in building a culture that adapts positively to continuous change and innovation. He is a leader with a fierce work ethic and an unwavering commitment to learning, evolving and remaining at the forefront of the technology landscape. Through thought leadership and creative problem solving, he has created an enviable track record of success stories. Find out Frank's views on which area of innovation is going to have the biggest impact on business over the next 10 years, as we talk about the mechanics of his playbook and what advice he would give to anyone aspiring to succeed in presales. This insightful discussion is essential listening for those with an interest in sales strategy, as well as anyone with a passion for the technology space.