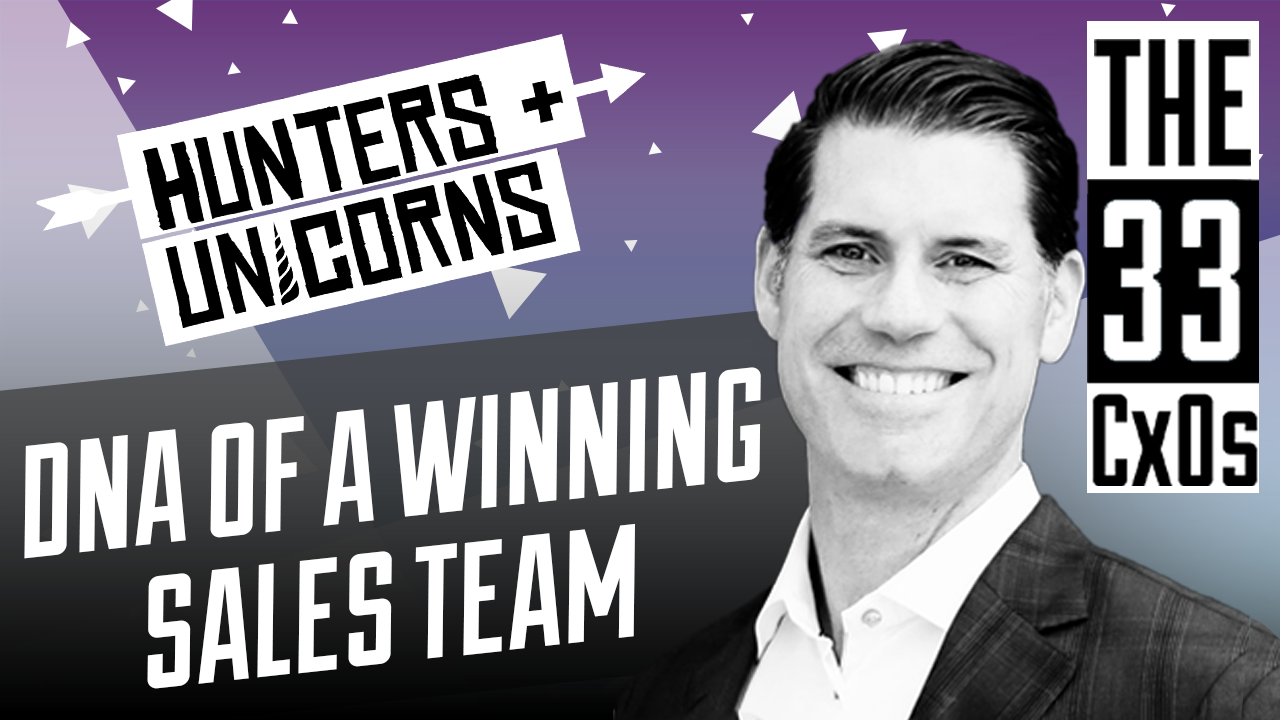 "I think leaders are leaders. I think a lot of that is just innate. If I took Bob Ladouceur and put him in charge of BladeLogic sales, would he have been successful? I 100% agree with that. If I took McMahon and put him in as a high school football coach, I 100% think he would be as successful."  – Patrick Ball
Hunters and Unicorns shares the playbooks from leaders, founders, executives and investors from high growth technology companies.

In this special edition series The 33 CXOs we investigate the greatest success story in the history of software sales. Discover how thirty-three sales execs from one organisation, BladeLogic, became CXOs in the world's 100 fastest growing technology companies. We uncover the stories and playbooks of the most prolific sales leaders in the industry.

Episode 4 features Patrick Ball, Chief Revenue Officer at Privitar. After initially embarking on a career in commercial real estate, Patrick was drawn to the activity and potential upside of software sales. Starting out as an SDR, Patrick's competitive nature made him the perfect fit for this aggressive sales environment and he quickly rose through the ranks to hold sales leadership positions at Moxie Software and BMC Software. From there, he went on to lead sales for the western region at Cloudera, scaling the organisation 5X during his four years with the company and more recently, he served as SVP of Worldwide Sales at NextLabs. With 22 years of experience and three IPOs under his belt, few careers have seen the success and progression of Patrick's.
"I'm a builder. Privitar's my seventh start-up. I've been fortunate to have been through three IPOs so I've seen it before, that's what I enjoy doing. I got bored at BMC, when it's a two, three-billion-dollar company, it's too big, I want to have more of an influence."
Patrick thrives in an environment where he can implement change and develop, that is intrinsic to his DNA, but when it comes to his leadership methods, he gives credit to two key mentors: Bob Ladouceur (his high school football coach) and John McMahon. The combination of competitive sports training and methodological sales strategies has enabled Patrick to become an expert in his field and create his own playbook for success.
"Recruitment is number one and the first thing I did when I got to Privitar was, I looked at my talent and figured out who to bring in. MEDDIC is an over-used term now but it's still fundamental to my playbook. I've tried to take things to the next level."
In this vodcast you will discover:
How to recruit a high performing sales team 
How to implement MEDDIC and take it to the next level
How to gain credibility and respect from your team
How to train and innovate

Having worked with the elite of elite in this industry, Patrick knows what it takes to build a winning sales team and uses his experiences to shape his own teams in a unique way.  This extensive discussion is essential listening for those with an interest in sales strategy, as well as anyone with a passion for the technology space.